SUN AN' SOUL - DREAM AN' ROME
ACQUA PAOLA FOUNTAIN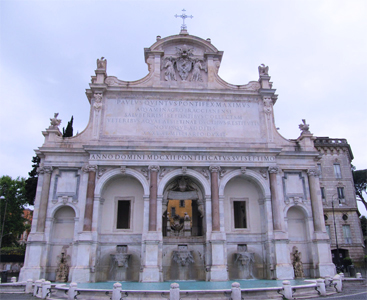 Acqua Paola fountain - click to enlarge picture
Acqua Paola fountain, for the Romans "the Grand Gianicolo Fountain", one of the most spectacular of the many fountains of Rome was made by Pope Paul V Borghese, who around 1610 commissioned Giovanni Fontana, elder brother of the famous Domenico (town planner, engineer and architect of confidence of Pope Sixtus V) and Domenico Pontius to restore the Trajan aqueduct, which we see along the close villa Doria Pamphili, to make up for the shortage of water in Trastevere and the Vaticano.
Note that the 4 central columns of the fountain were taken from the ancient façade of the Constantinian basilica of St. Peter, which in those years, always on behalf of Paul V, Carlo Maderno was completely rebuilding.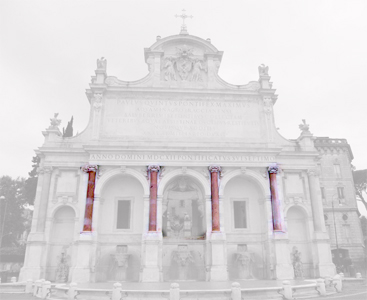 The 4 central columns - click to enlarge picture
At the top of the  fountain a large inscription recalls that the work was made by Paul V, however it is inaccurate, in fact it is written that the restored aqueduct was the Augustan Alsietino, but it is not, as we said this is the Trajan aqueduct.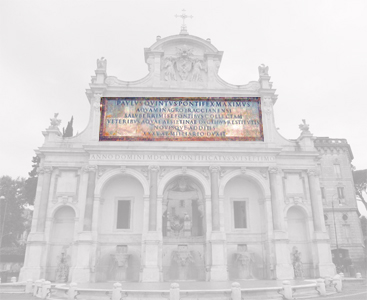 The inscription - click to enlarge picture
In the crowning two angels sculpted by Ippolito Bruzio hold the Borghese coat of arms formed by dragons and eagle.
Dragons and eagles that appear a bit everywhere.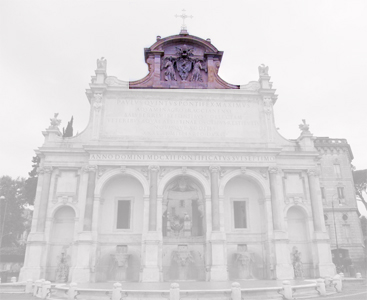 The crowning - click to enlarge picture
The fountain marbles were taken from the Forum of Nerva, demolishing the remains of the Temple of Minerva.
But to Pope Alexander VIII Ottoboni the fountain did not seem quite monumental, and in 1690 commissioned Carlo Fontana, one of the greatest performers of the late Baroque and grandson of Giovanni, to enlarge the fountain, what Carlo made building one large basin at which water flows gushing from three small basins, and the mouth of two dragons.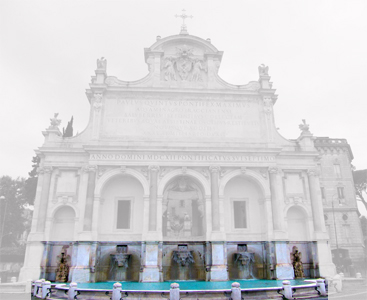 The basin - click to enlarge picture
Even Alexander VIII wanted his intervention does not go unnoticed, therefore over the central arch affixed his coat of arms and a long inscription.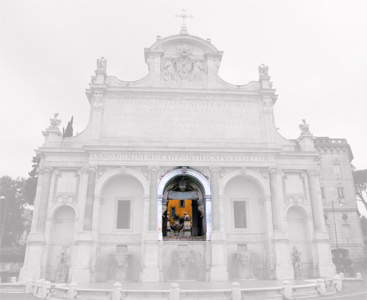 The coat of arms - click to enlarge picture