SUN AN' SOUL - DREAM AN' ROME
ARCH OF TITUS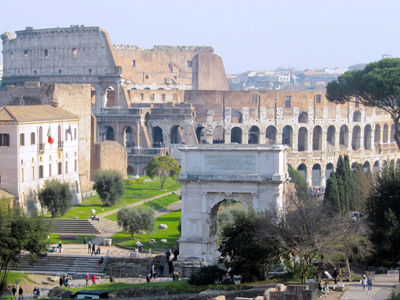 Arch of Titus - click to enlarge
The Arch of Titus, 13.50 meters wide, 15.40 high and deep 4.75 was erected by his brother Domitian after his death (81), as evidenced by the inscription which shows the dedication to Titus the divine son of the divine Vespasian and as the deification occurred post mortem, it follows that the arch was built after the 81 and probably finished around 90.
In the keystone the figures represent Rome and the Genius of the Roman People.
Above the archivolt you see flying Victories. Above the attic it is assumed that there was a bronze chariot.
Inside the arch two large reliefs celebrate the triumph of Titus over the Jews. The southern relief represents the procession as it passes, in Rome, through the triumphal arch, which is seen on the right surmounted by two chariots. The bearers march from left to right carrying the sacred ritual objects of the Temple of Jerusalem including the seven-branched candlestick. Incidentally this is the oldest depiction of the seven-branched candlestick.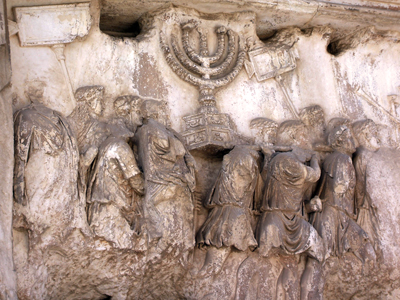 Arch of Titus, seven-branched candlestick - click to enlarge
The relief placed on the north side of the arch depicts Titus on the chariot, preceded by lictors, while the goddess Roma held by the bit the horses. On the chariot the Victory crowns the emperor.
The vault of the arch is finely decorated, in the center of the vault still appears Titus taken to heaven by an eagle.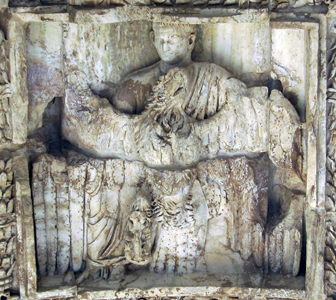 Arch of Titus, the vault - click to enlarge
In the Middle Ages, one of the most important Roman families, the Frangipane, included the arch in their fortifications, together with the Coliseum.
The Arch of Titus was finally extensively restored in 1823 by Raffaele Stern and Giuseppe Valadier, who demolished the buildings that lined it.