SUN AN' SOUL - DREAM AN' ROME
BASILICA EMILIA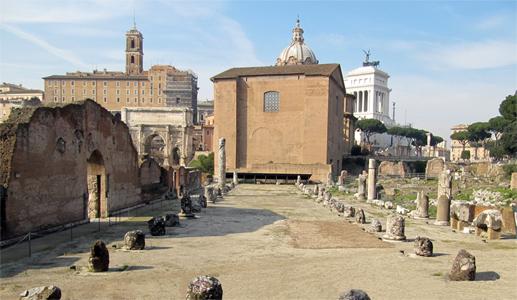 Basilica Emilia - click to enlarge
The Basilica Emilia is the only one survived of the Roman Republican era. It was founded by the censors in 179. C. Emilio Lepidus (patrician), and Marco Fulvio Nobiliore, (plebeian), but since the powerful gens Emilia, up to the time of Emperor Tiberius, took care of the Basilica, it was named after their name, even if what we see today is the result of restoration of the imperial era.
It is possible to date to the fifth century AD the last restoration, since the coins, preserved in the Basilica, merged into the floor after a fire, probably lit by Alaric, king of the Visigoths in 410 when he sacked Rome.
The construction of basilicas was introduced in Rome after the Second Punic War, that is since 200 BC and were devoted both to judicial and to financial and commercial activities. In other words, the Basilica was a multi-functional civic building, which had to offer large covered spaces.
To achieve the purpose rows of columns or pillars supported the roofs, dividing the building into a central nave and side aisles. To ensure good lighting usually in the nave, higher than the aisles, there were large windows.
Unlike the Christian basilicas, the entrance into the Roman basilicas was opened on the long sides, while in imperial times along the short sides there were apses.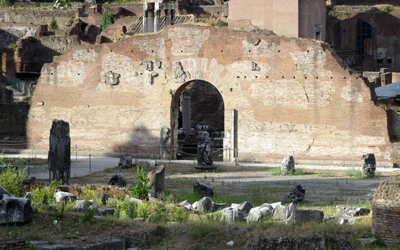 Basilica Emilia, entrance - click to enlarge
The façade of the basilica, in front of the square of the Roman Forum, consisted of sixteen arches on two levels. After the fire of 410, the arches were replaced by columns, many of those we see today on the ground, except three granite columns, which have been raised on white marble bases.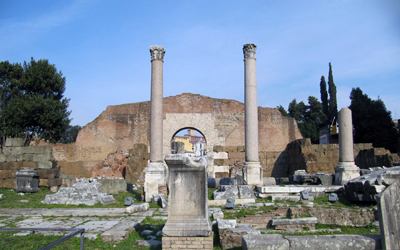 Basilica Emilia, columns - click to enlarge
On the east side, near the entrance to the Forum from Via dei Fori Imperiali is placed a part of the cast of the frieze of the trabeation (The original is in the Roman National Museum at Palazzo Massimo.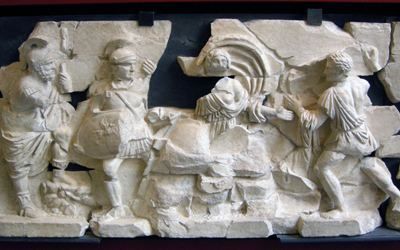 Basilica Emilia, cast of the frieze of the trabeation - click to enlarge