SUN AN' SOUL - DREAM AN' ROME
CAESAR FORUM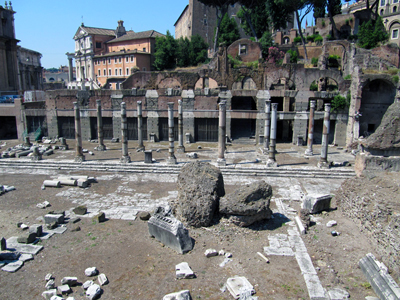 Caesar Forum - click to enlarge
Bordered by the Forum of Trajan is the Caesar Forum built, to make up for the fact that the nearby Roman Forum had become inadequate to the administrative needs of a city that had become the center of the greater Western Empire.
The area on which the Forum was built was 160 meters long and 75 wide and it consisted of a rectangular square surrounded on three sides by arcades, divided into two aisles by a double row of columns, while the smaller side, nowadays bordered by the Vittoriano, it was closed by the Temple of Venus Genetrix, the mythical ancestor of the gens Julia.
The forum, inaugurated by Caesar, was later finished by Augustus.
To the temple of Venus, which had eight columns in front and nine on the two long sides, one could enter through two side staircases.
The three Corinthian columns, you see today, were raised during the work of the '30s of the last century.
Large marble fragments of the trabeation and the pediment lie in front of the podium.
In the temple were many works of art, as well as in the area of ​​the Forum, where reliable sources tell about a statue of Cleopatra in gilded bronze, and a statue of Caesar with the "Sidus", the star on his forehead.
Moreover, the Forum, as we see today, is the work of Apollodorus Damascus, who to build the Forum of Trajan, took possession of part of the space occupied by the Forum of Caesar, displacing it to south, towards the Colosseum, then he demolished and rebuilt the temple of Venus, maintaining the same plant. Therefore the Forum was  again inaugurated in 113 AD.
If you overlook the Caesar's Forum from Via dei Fori Imperiali, you see in front a double set of columns that belong to the arcade of one of the two long sides.
Behind the columns,  located on two floors, there are the "Tabernae", devoted to commercial activities.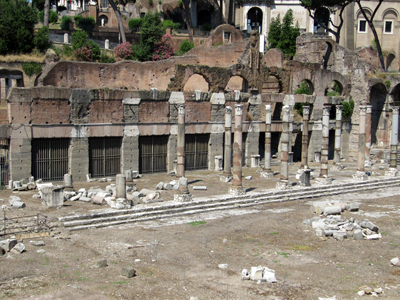 Caesar Forum, Tabernae - click to enlarge
From the arcade one could go down in the square of the Forum thanks to a threefold flight steps.
Between the columns of the arcades and between the columns, there were several statues as you can imagine seeing the base of a statue.
If you want to enjoy the decoration of the trabeation you have to go to the Clivo Argentario, the road that runs alongside the Forum of Caesar from the opposite side of Via dei Fori Imperiali.
Along the way, passing close to the short side of the Forum, next to the Victorian, you can see the shelves that held the coffered ceiling of the temple and the cornices.
Caesar Forum, finds - click to enlarge