SUN AN' SOUL - DREAM AN' ROME
MADELEIN CHURCH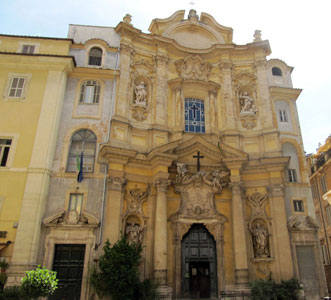 Madeleine church - click to enlarge
The Madeleine church, with its façade built by Giuseppe Sardi in 1735, it is a successful example of Rococo architecture.
The church was built in 1586 on a 1300 chapel, then Carlo Fontana, the great architect of the Baroque age, in 1673 designed and put in place the dome and the vault, Giovanni Antonio De Rossi and others completed the structure in 1699, while the façade, as mentioned, was built later by Giuseppe Sardi.
The interior has a complex plant, formed by a nave  in the shape of an elongated octagon inscribed in a ellipse, with two side chapels. The octagon closes in the transept underneath the dome.
On the walls of the nave, in the niches, are placed the statues of the Virtues by Carlo Monaldi, Paulo Morelli and assistants. In the vault of the nave Michelangelo Cerruti (1663 - 1748) painted the Stories of Mary Magdalene.
In the apse "Preaching of Jesus" fresco by Aureliano Milani (1675-1749).
The dome and the spandrels were frescoed by Etienne Parrocel, named "Le Romain" (1696 – 1776).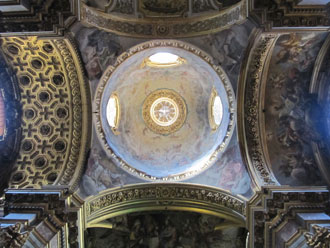 Madeleine church, dome and spandrels - click to enlarge
In the chapel of the transept we see one of the masterpieces of the church: Christ, the Virgin and St. Nicholas from Bari, by Baciccia (1639 - 1709).
Luca Giordano (1634 - 1705), painted in the second chapel
San Lorenzo Giustiniani worshiping the Child, one of the few Roman works of the great Neapolitan, who for his working speed was called "Quick Luca."
In the counterfaçade one can admire the spectacular organ, in gilded wood and stucco.
Before going out to observe the delicate font.