SUN AN' SOUL - DREAM AN' ROME
FROM EMPIRE STREET TO MONTEMARTINI POWER PLANT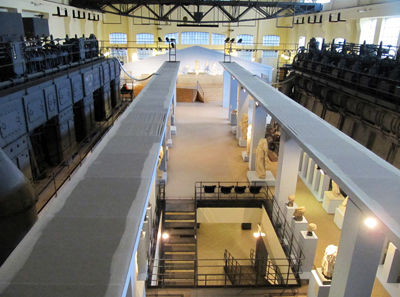 Montemartini power plant - click to enlarge
The disused Montemartini power plant was a coal-fired plant for the production of electrical energy.
Its extensive areas now house, with incomparable charm, sculptures, architectural fragments and mosaics of the Roman age, coming from the Capitoline Museums.
In this issue we show you some artifacts found when (1924 – 32), was built the empire street, corresponding to the current Via dei Fori Imperiali, Via di S. Gregorio and Via delle Terme di Caracalla.
Unfortunately, the excavations were then conducted with such haste that has not been documented the provenance of the artifacts, so we do not know from which of the Fori Imperiali they come.
The good news is that they have not gone missing.
Let's begin our trip with the woods' Roman god: Silvano; then we meet Antinoo, favourite by Emperor Adriano, portrayed around 130 AD.
Here is Lucilla, daugther of Marco Aurelio and Faustina Minore, portrayed around 165 AD, when she was elected "Augusta" like her mother.
Montemartini power plant - click to enlarge
Silvano
Antinoo
Lucilla
And now you can admire the great Emperor Settimio Severo, who reigned from 193 to 211 fighting, among others, against the oligarchs, therefore he named himself "Dominus et Deus" (= master and god).
Severo was born in the present Lybia at Leptis Magna, his father was a noble Berber, while his mother Pia came from the famous Roman gens (= Family) Fulvia. Sees him a princess combed after the fashion of the early Severian age.
Montemartini power plant - click to enlarge
Settimio Severo
Princess
The impressive portray we now show to you is that of Caracalla, who was taken into partnership by his father Settimio Severo in 198 and reigned until 217. Caracalla has a worst fame, but indeed he was very popular and must be reminded to have given the Roman citizenship to every people leaving inside the Empire, that his equal taxes for everybody.
Montemartini power plant - click to enlarge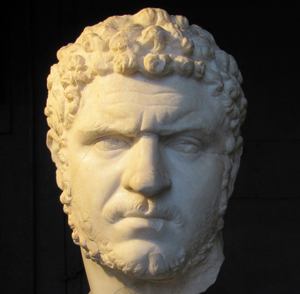 Caracalla
The years went by and in 244 became Emperor Filippo l'Arabo (= the Arab), born in Siria, portrayed with his wife Otacila Severa. Severa because her father's name was Severiano, therefore she doesn't belonged to the family of Settimio Severo.
Montemartini power plant - click to enlarge
Filippo l'Arabo
Otacila Severa
Let's get the Greek world with the archaic Dionysus, followed by the Apollo, Roman replica of an original Phidias bronze (lost); then Icarus, Roman reworking of an original by Policleto (obviously lost).
Montemartini power plant - click to enlarge
Dionysus
Apollo
Icarus
Still the athlete, Roman replica of a Policleto bronze original. Again a Roman replica of the young boxer from an original Policleto bronze.
Of course it is legitimate to speculate that the precious bronzes were melted, since the originals have disappeared.
Montemartini power plant - click to enlarge
Athlete
Young boxer