SUN AN' SOUL - DREAM AN' ROME
PIAZZA DEL POPOLO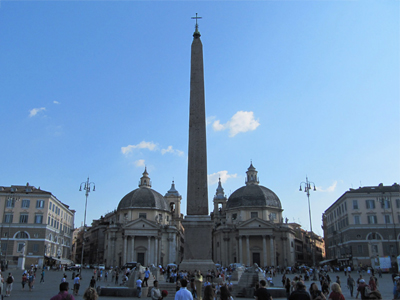 Piazza del Popolo - click to enlarge
Before assuming the current form Piazza del Popolo (=People Square) had a trapezoidal shape with the larger base towards Via del Corso, while at the center of the square stood the obelisk, of the Augustan age, which was raised by Pope Sixtus V, around 1587.
In the early 1800s Giovanni Valadier redrew  the square transforming the trapeze into an ellipse with two exedras, at the center of which he placed two fountains, the  one towards the Pincio hill devoted to the Goddess Roma and on the other side that dedicated to Neptune while in the center of the square he removed the Giacomo Della Porta's fountain replacing it with the one with the four lions we see today.
Valadier completed his work by connecting the square to the Pincio, with a comfortable carriage road, along which, behind the fountain of the goddess Roma, poses another fountain.
Finally under the Pincio balustrade he built a structure with niches that supports the terrace.
Thanks to the intervention of Valadier the square assumed a neoclassical appearance, in which survived the Renaissance Porta del Popolo (=People Gate), subsequently restored by Bernini and the Renaissance façade of Santa Maria del Popolo, while facing the gate, at the other side of the square, the two baroque churches, which the Romans called the Twin, serve as a triumphal entrance to the Via del Corso the urban stretch of the ancient Via Flaminia.
Piazza del Popolo received by the Popes much attention because the pilgrims who flocked to Rome, coming from the north, entered into the city gathering in this square.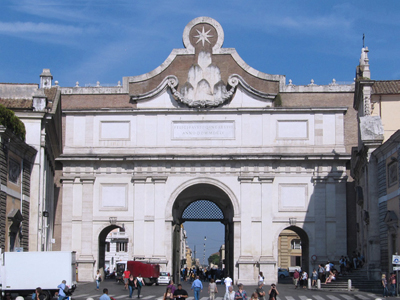 Porta del Popolo, - click to enlarge