SUN AN' SOUL - DREAM AN' ROME
PIAZZA NAVONA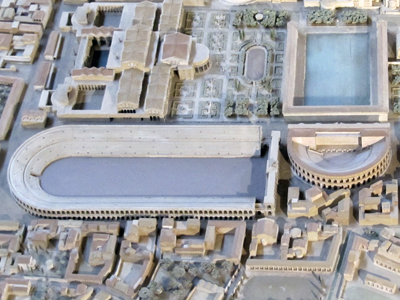 Piazza Navona - click to enlarge
Piazza Navona is the stadium of Domitian, or circus agonal, the place that Domitian had intended to what we might consider the Roman Olympic Games.
The impressive Roman ruins are visible from Piazza di Torsanguigna.
Piazza Navona, Roman ruins - click to enlarge
The present name was got going from "in agone", to "n'agone", then "navone" and finally to the current Navona.
The present square is due to Pope Innocent X Pamphili, who in 1652 when inaugurated it, closed the discharges of the fountains, the square, then concave, filled with water for the amusement of the Romans. The thing was so pleased that from then on Saturdays and Sundays in the summer the Romans could "annà a sguazzo" (=to dabble) in Piazza Navona, until in 1866 Pope Pius IX decreed the order to stop the dabble. Truly not for a perverse punitive desire, but because the water penetrating the foundations of the palaces threatened their stability.
Pamphili palace by Girolamo Rainaldi overlooking the square, since 1961 houses the Brazilian embassy.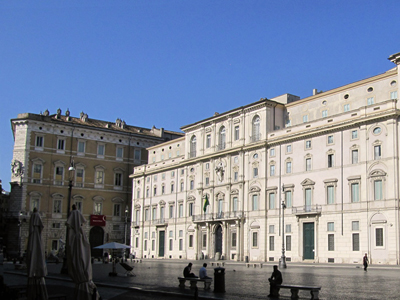 Piazza Navona, Pamphili palace - click to enlarge
In the interior there are the frescoes by Pietro da Cortona with Enea Stories and a wonderful gallery of Borromini.
Piazza Navona, palazzo Pamphilj - click to enlarge
Enea Stories
Enea Stories
Gallery of Borromini
At the Corner with Via della Cuccagna (=good time), stands on the square Massimo Lancellotti palace, the work of Pirro Lagorio, also called Torres after the name of the first owner.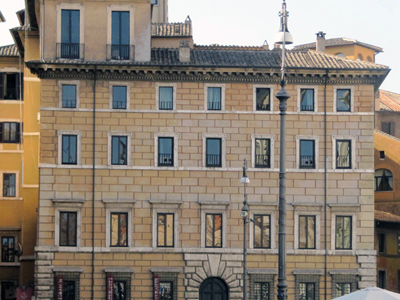 Piazza Navona, Massimo Lancellotti palace - click to enlarge
The palace has an asymmetrical shape, for the very good reason that a part of the attic had to be demolished, to prevent the collapse of the entire building.