SUN AN' SOUL - DREAM AN' ROME
QUINTILI VILLA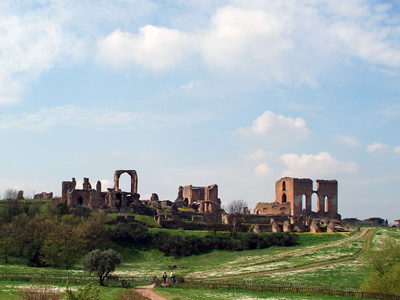 Quintili Villa - click to enlarge
Along Via Appia Antica there is the Villa that belonged to Sisto Quintilius Condianus and Sisto Quintilius Valerio, two brothers remembered for their nobility, military prowess, wealth and the tie that united them to the death. They were consuls in 151 AD during the reign of Antoninus Pius, also the successor of Antoninus, Marcus Aurelius, estimated them, but at his death his son Commodus accused the Quintili of treason and put them to death and finally confiscated their property.
The Quintili Villa during the nineteenth century inspired paintings and prints, its impressive ruins exerted a romantic suggestion on foreign visitors and became part of the iconography of ancient Rome. Archaeological excavations began already in '800, mainly directed to the search for high-quality finds, with the result of dispersing part of the heritage of the Villa, just to give an example a statue of Venus flyed to the Monaco Glyptotek.
Nowadays the Villa is owned by the state and the Archaeological Agency of Rome made and makes systematic excavations, which allow to make more accessible the Villa, actually a small town. Excavations have revealed the Baths, public and private Residence, courtyards and gardens, a nymphaeumand a large tank  into which flowed the water from the Quintili aqueduct, that fed the Baths.
Quintili Villa - click to enlarge
Public and private Residence
Nymphaeum
Aqueduct
The floors and the marbles unearthed give an idea of the beauty and wealth of the complex. Crossed the Villa paved roads and of course could not miss a circus for horse racing.
In a farmhouse the Roman Archaeological Agency has opened a Museum with various finds of exceptional interest, including the spectacular statues of Jupiter, Hercules, male and female portraits, architectural components extremely refined and a fragment of Mercury of rare awesomeness.
Quintili Villa - click to enlarge
Jupiter
Hercules
Mercury
Last but not least the Museum staff will assist you with great competence.
The entrance to the Antiquarium and Villa is located in Via Appia Nuova n° 1092.
The area is open to the public every day except Monday, from 9 am.
The ticket is valid for 7 days and you can also visit the Mausoleum of Cecilia Metella and the Baths of Caracalla. The circuit Villa dei Quintili, Cecilia Metella, Baths of Caracalla in 2015 was visited by over 250,000 people.
Alternatively it can be purchased the Archaeologia Card, a ticket valid seven days that allows access to the following archaeological monuments of Rome: the Colosseum, Palatine Hill and the Roman Forum, the Baths of Caracalla, Quintili Villa, Mausoleum of Cecilia Metella and the four locations of the Museo Nazionale Romano: Palazzo Massimo, Palazzo Altemps, Crypta Balbi, Baths of Diocletian. By buying this card you can directly access the turnstile, without going to the ticket office. The purchase of Archaeologia card can be made at any of the ticket offices of the sites listed above. The cost of Archaeologia Card is: Adults € 23,00 - reduced € 13,00.