SUN AN' SOUL - DREAM AN' ROME
SAINT AGNES IN AGONE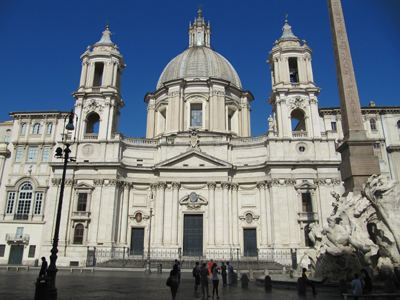 Saint Agnes in Agone - click to enlarge
The current appearance of the church of St. Agnes in Agone is due to Pope Innocent X Pamphili, who in 1652 commissioned Carlo Rainaldi the construction. However, the design of Rainaldi didn't persuade Innocent X, who without wasting time in 1653 replaced him with Borromini.
The genius of Borromini is recognizable in the alternation of convex and concave shapes of the façade and for the wonderful dome which stands on the tambour, in which there are 8 large windows that illuminate the interior.
Proceeding with great alacrity Borromini, at the sides of the church also designed the Innocent college.
When Innocent X died in 1655 the work of Borromini was questioned by the heirs (indeed they wanted to spare money), with the result that in 1657 Borromini indignantly gave it up.
Carlo Rainaldi who returned to work with the help of John Baratta, partially modified Borromini's design in particular, while Borromini had planned 2 small bell composed by 2 orders (=storeys), the lower with convex section and the upper concave, Rainaldi built two tall towers both convex section. Unfortunately this intervention as well as stifling the imagination of Borromini, impacts over the impressiveness of Borromini's dome.
The interior following the project of Borromini has a Greek cross.
Above the entrance portal the tomb of Innocent X by Giovan Battista Maini (1690 - 1752), a late Baroque sculptor. Remember that until 1992 the church belonged to the Pamphili family.
The magnificent fresco of the dome, one of the most beautiful in Rome, representing the "Glory of Paradise", is the masterpiece of Ciro Ferri (1634 - 1689), the most famous disciple of the great Pietro da Cortona.
The spandrels of the dome, painted from 1668 to 1671, are the first masterpieces of Baciccia (1639-1709), they represent: Prudence and Providence; Justice and Peace; Fortitude and Charity; Temperance and Chastity.
click to enlarge
Prudence and Providence
Justice and Peace
Fortitude and Charity
Temperance and Chastity
Along the walls are arranged seven altars whose altar-pieces are made of marble reliefs, sculpted by the finest artists of the Baroque age.
Not to be missed: the statue of St. Agnes carved by Ercole Ferrata around 1660; The Holy Family by Domenico Guidi with St. Elizabeth, St. John, and Zechariah, work completed in 1688 (the four columns by the sides of the altar-pieces, in antique green marble, come from the disappeared arch erected by Commodus in honor of his father Marco Aurelio); the Santa Cecilia of the great Ercole Antonio Raggi, depicting the dying Saint visited by Pope Urban I.
The altar dedicated to Saint Eustace, in 1666 was commissioned to Melchiorre Caffà, promising disciple of Ercole Ferrata, but Caffà had just started working when died in a tragic accident occurred in the Vatican foundries. Then Ercole Ferrata, with the help of Francesco Rossi completed the work. The tame lion at the feet of Eustace symbolizes the rejection of the beast to devour Eustace and his family led to martyrdom in the circus.