SUN AN' SOUL - DREAM AN' ROME
SANTA MARIA DELLA CONSOLAZIONE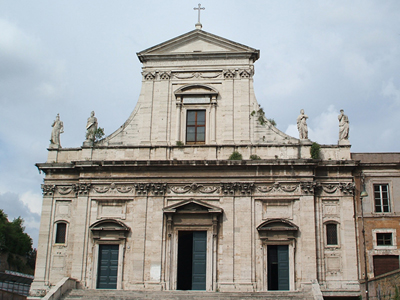 Santa Maria della Consolazione - click to enlarge
At the foot of the Tarpeian Rock until 1550 were executed people sentenced to death. In 1385 Giordanello Alberini, Roman nobleman condemned to death, left two gold florins because here was placed a picture of Our Lady for consolation of the condemned.
Thus took name the church, which around 1585 was built in the lower part by Martino Longhi the Elder (1534 - 1591) and then completed around 1830 by Pasquale Belli.
The interior has one nave and two side aisles, with five chapels on each side. As you enter the chapel on the right, originally of the Mattei family, exhibits the cycle of frescoes of the Passion painted by Taddeo Zuccari in 1556.
Frescoes of the Passion - click to enlarge
These frescoes, although today they are somewhat deteriorated, remain memorable for the intensity and expressiveness of the faces.
Follows the Pelucchi chapel with the altarpiece by Livio Agresti (1508 – 1580), depicting the Madonna Enthroned with Saints. Agresti was a pupil of Perin del Vaga, himself a disciple of Raphael.
The main altar was made by Martino Longhi, while the medieval fresco of St. Mary of Consolation, was repainted by Antoniazzo Romano, around 1500.
Very harmonious is the decoration of the apse.
In the first chapel on the left don't miss the beautiful relief by Raphael from Montelupo, carved in 1530, representing the Mystical Marriage of Saint Catherine.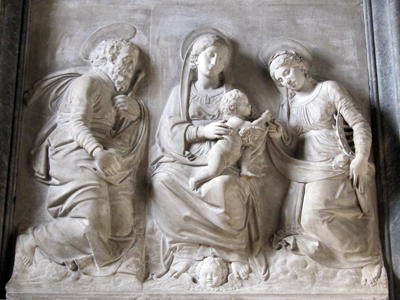 Mystical Marriage of Saint Catherine - click to enlarge
The building next to the church is the old Consolation hospital where was admitted the young Caravaggio, who in memory of that turbulent period left us his self-portrait known as the "Sick Bacchus".