SUN AN' SOUL - DREAM AN' ROME
SANTA MARIA IN CAMPITELLI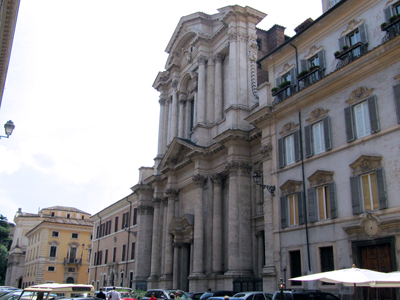 Santa Maria in Campitelli - click to enlarge
Santa Maria in Campitelli was designed by Carlo Rainaldi (1611 – 1691), "Architect of the Roman People" by papal appointment, who planned it on the will of Pope Alexander VII Chigi.
The façade of two orders, completed in 1667, is admired for the vertical momentum of the columns and the alternation of the arches and the triangles. Note that although undoubtedly Baroque the façade has no special decorations such as statues, or putti.
To see the lovely lantern that rises above the dome, one must move to the back of the church, going along via Tribuna Campitelli.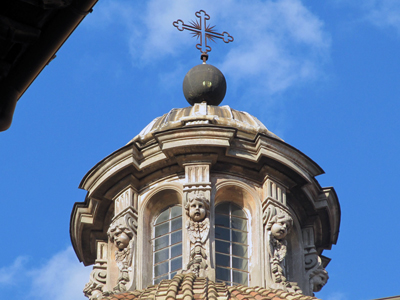 The lantern - click to enlarge
The interior has an intricately plant, formed by a forepart on which engages a second smaller space including the dome and apse, it is the result of the project started by Carlo Rainaldi and completed by Giovanni Antonio De Rossi (1616 -1695).
The extraordinary feeling of spaciousness, returned by this magnificent architecture, is due to the 24 Corinthian columns, which with their height seem inspired by the Palladian style (1508 - 1580) and the temples of the Imperial Rome.
In the first chapel to the right the altarpiece depicting St. Michael is the work of Sebastiano Conca (1680 - 1764), said the Knight, a disciple of Carlo Maratta.
The next is the chapel of St. Anne which in the vault shows the Vocation of the Virgin of the great Luca Giordano (1634 - 1705), named "Quick Luca".
The Angels around the altarpiece are by: Michel Maille (1643 - 1703), a pupil of Ercole Ferrata; Francesco Cavallini, who worked in Rome since 1672 and Francesco Baratta (1590 to 1666), the latter of Bernini school.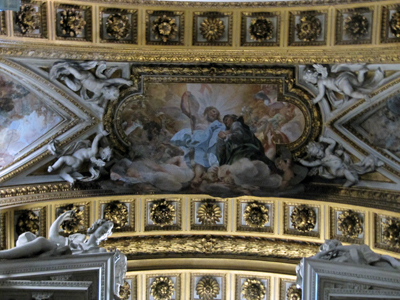 Vocation of the Virgin - click to enlarge
On the main altar inside the amazing "baroque machine" worked in particular by the great Ercole Ferrata, is the image of the Virgin, from the ancient church of Santa Maria in Portico.
The fresco in the apse dates 1925 and was made by Giovanni Battista Conti.
The dome it is decorated to enhance its verticality.
To the left in the third chapel Ludovico Gimignani (1643 - 1697), painted the Conversion of St. Paul.
The second chapel is dedicated to St. John Leonardi, Patron of Pharmacists, who died in Rome in 1609, whose body is placed under the altar. The altar piece is the work of the great Baciccia.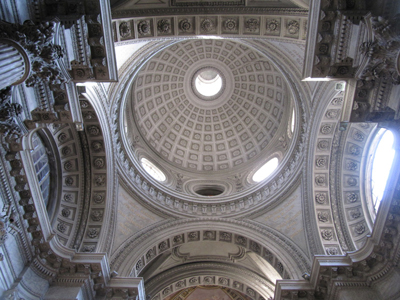 The dome - click to enlarge