SUN AN' SOUL - DREAM AN' ROME
ST. AUGUSTINE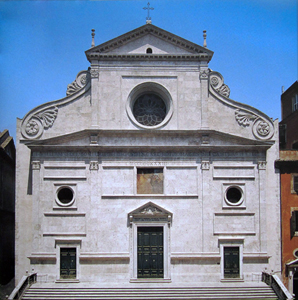 St. Augustine - click to enlarge
The façade of the Renaissance church of St. Augustine was made by Giacomo da Pietrasanta, who used the travertine of the Colosseum.
The interior has a nave and two side aisles.
Upon entering we see the venerated "Vergine del Parto" (Virgin of the Nativity). The sculpture was carved in 1516 by Jacopo Tatti, who in honor of his master Andrea Sansovino named himself Sansovino and precisely is known as Jacopo Sansovino.
On the third pillar to the left of the nave in 1512 Raphael painted the prophet Isaiah, probably inspired to the prophets who in 1509 Michelangelo frescoed in the Sistine Chapel, but the hand of Raphael is unforgettable.
Below, on the same pillar, Andrea Sansovino, between 1510 and 1512 carved one of his masterpieces: the Holy Family.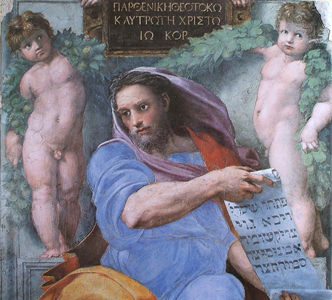 The prophet Isaiah - click to enlarge
Turning to the right aisle, in the gable of the chapel of St. Peter Pinturicchio and pupils painted the Eternal Father.
The chapel of St. Augustine and William, is one of the masterpieces of Lanfranco, entering on the left we see "St. William cured by the Virgin" on the vault "Assumption of the Virgin".
The Tomb of Cardinal Lorenzo Imperiali is the work of the great Baroque sculptor Domenico Guidi.
The Chapel of St. Thomas of Villanova, rich in marble, was designed by Giovanni Baratta (? -1679).
The sculpture on the altar, depicting St. Thomas of Villanova and Charity, begun by Melchiorre Caffà (1638-1667), because of the untimely death of his pupil, was completed by Ercole Ferrata (1610-1686), another great Baroque sculptor.
In the gable God the Father is still by Ercole Ferrata.
| | |
| --- | --- |
| | |
| St. Thomas of Villanova and Charity - click to enlarge | God the Father - click to enlarge |
In the first chapel of the left aisle, Our Lady of Loreto or Madonna of the Pilgrims is one of the greatest masterpieces by Caravaggio (1573-1610). The extreme realism of the representation at the time created a scandal, but today we are struck by the intensity of the Faith that shines from the face of the Pilgrims and at the same time it is clear that Caravaggio speaks to the heart of the Church of the Poor.