SUN AN' SOUL - DREAM AN' ROME
TEMPLE OF ANTONINUS AND FAUSTINA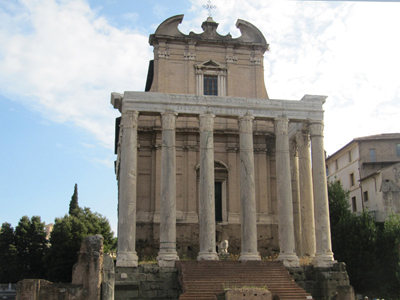 Temple of Antoninus and Faustina - click to enlarge
On a large podium Antoninus Pius erected in 141 the temple dedicated to his wife Faustina the Elder, who he had died that year and immediately deified. When Antoninus died too, his name was added to the previous dedication.
| | |
| --- | --- |
| | |
| Antoninus Pius - click to enlarge | Faustina the Elder - click to enlarge |
Sul On the podium we see six monolithic cipolin columns, 17 meters high whose Corinthian capitals are made of Carrara marble. At the top of the columns you can see the grooves, made to halt the rope with which it was intended, probably in the Middle Ages, bringing down the columns; but the monoliths resisted.
On the sides two columns precede the cell, built with blocks of lava stone covered with slabs of white marble, above which we see the frieze depicting griffins and garlands.
Temple of Antoninus and Faustina, columns - click to enlarge
The brick steps leading to the podium is modern; on the bottom center you see the remains of the altar, while on the podium behind the columns were placed statues.
Temple of Antoninus and Faustina, remains of the altar and statues - click to enlarge
The cell of the temple now houses the church of San Lorenzo de' Speziali in Miranda, known for the beautiful view on the forum. The church is also called de 'Speziali, because Pope Martin V around 1430 gave it to the Universitas Aromatorium, in other words, the Apothecary Guild.