SUN AN' SOUL - DREAM AN' ROME
THEATER OF MARCELLUS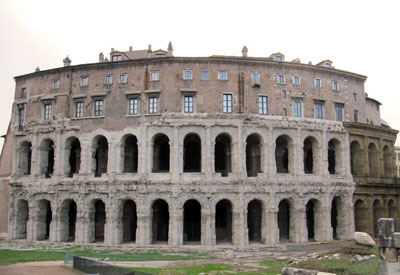 Theater of Marcellus - click to enlarge
The first foundations of the Theater of Marcellus were committed by Julius Caesar, after his death Augustus resumed the work, which was completed in 17 BC dedicating the theater to Marcus Claudius Marcellus, son of his sister Octavia, who he had adopted, but since Marcellus died very young didn't succeed to Augustus.
The Theatre of Marcellus occupied part of the Flaminius Circus, built by Gaius Flaminius Nepos (265-217 BC), the plebeian consul, hated by the patricians for having given birth to the first major Roman land reform in favor of the plebs.
The exterior façade of the theatre, all travertine, consisted of three floors, the first two formed  by 41 arches and 42 pillars.
The first floor was built after the Tuscan order, the second Ionic. The third floor consisted of an attic enlivened by Corinthian pilasters.
Thus the building alternated the Tuscan, the Ionic and the Corinthian order, the last today disappeared. In total, the building was about 32 meters high. The semicircular auditorium, with a diameter of about 130 meters, could accommodate 15 to 20 thousand spectators.
Of the scene, flanked by two apses halls, little remains.
Given the nature of the terrain and the proximity of the Tiber, the theater was built on a deep concrete foundation.
In the Middle Ages at the time of the baronial conflicts the theater became a fortress before occupied by the Pierleoni family, then by the Savelli, who in the '500 commissioned Baldassarre Peruzzi to build on the arches of the theatre the palace we see today, that in the eighteenth century passed to the Orsini family.
The shops and hovels that were established between the arcades and around the theater, in the thirties of '900, during the construction of the Via del Mare, were demolished and simultaneously were freed the lower arches which for about 4 meters were buried. 
Next to the theater stood the temple of Apollo Sosiano, of which we see on the podium three imposing Corinthian columns, that support the beautiful trabeation (consisting of architrave, frieze, cornice) built by Gaius Sosio around 30 BC in place of a more ancient temple dedicated to Apollo Medicus.
Parts of the temple of Apollo Sosiano have been recomposed and they are exhibited in the wonderful museum housed in the discarded Montemartini power plant.
Temple of Apollo Sosiano - click to enlarge
Next to the Theatre of Marcellus, at the end of '500, Giacomo Della Porta erected the church of St. Nicholas in Carcere (=prison), that includes the remains of three temples of the III century BC.